Owned and operated by Carol Shewan, and nestled along the historic Rideau Canal Waterway in Westport, Ontario  Willow Creek Rug Hooking offers supplies and instructional classes.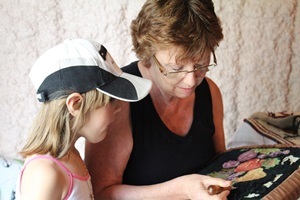 Carol has been rug hooking since 2000 and is a graduate of the St. Lawrence College Fibre Arts program. She completed her Ontario Hooking Craft Guild teacher training in 2010 and became and accredited McGowan teacher in 2015.
 Living in Westport she teaches mainly in eastern Ontario, her favourite class is beginners. "It is great to watch students learn to hook and to watch them become excited by their new found talents."
Several years ago Willow Creek Rug Hooking began as a side line to her teaching. She loves to dye wool and the "stash" just kept growing and was not all being used by her students so it made sense to sell out side the class room. Now Willow Creek is carrying hoops and frames as well as several styles of hooks. The hand dyed wool is largely Dorr natural with a few textures added here and there. There are original Willow Creek patterns as well as several other artist's designs.  
Look for info on new classes and pictures of completed rugs on our blog.
We are also now carrying a line of Eaton's rug patterns, hooking these lovely patterns is a way to connect with our Canadian rug hooking heritage.
Address
PO Box 23 Westport
On, K0G 1X0
Email
carol@willowcreekrughooking.com