Host Carol Shewan provides insights, and tips on the art of rug hooking.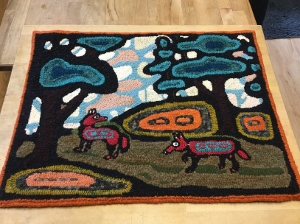 Here is a picture of AJ' VanDrie's Friendship pattern hooked by Susan Fitzgerald. Beautifully done with great colours that are just different enough from the painting to make it her own.
Every once in awhile we send out a newsletter letting our valued customers know of specials, advance notices of upcoming workshops and the like. If you would like to receive our newsletter please fill in the form. Don't worry we won't inundate your inbox with lots of emails.
Address
PO Box 23,
Westport, On K0G 1K0
Email
carol@willowcreekrughooking.com